G 8
8 / 6 / 2017
augen:falter im MFI
8. Juni bis 8. Juli 2017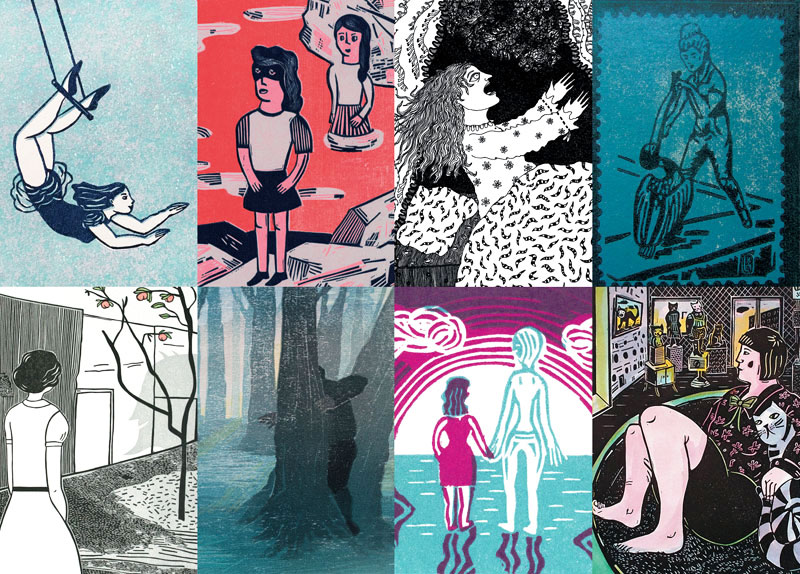 Der Ausstellungstitel G8 steht hier sinnbildlich für die Gruppe der acht augen:falter, einer artistischen Vereinigung, die im Jahr 2009 gegründet wurde – nicht zuletzt, um Gipfel zu stürmen. Dem Künstlerkollektiv mit Leidenschaft für originalgraphische Techniken gehören Inka Grebner, Urte von Maltzahn-Lietz, Gerlinde Meyer, Franziska Neubert, Julia Penndorf, Nadine Respondek-Tschersich, Petra Schuppenhauer und Katja Zwirnmann an.
Die Künstlerinnen arbeiten gemeinsam an verschiedenerlei Publikationen im Bereich der Druckgraphik. Diese Gemeinschaftswerke stellen sie neben eigenen Büchern, Mappen und Graphiken auf Buch- und Graphikmessen in Deutschland und anderswo aus.
Jüngstes Beispiel für die erprobte Zusammenführung der unterschiedlichen künstlerischen Handschriften sind die Holzschnitte für das Buch »Einübung ins Paradies«. Die zugrunde liegende Erzählung von Ingo Schulze spielt im Tierpark Berlin. Das – bis hin zum Text im Bleisatz – ganz und gar originalgraphische Buch wurde in der Abteilung Grafisches Gewerbe des Museums der Arbeit in Hamburg gedruckt. Eine Auswahl der Werke von augen:falter kann im Ministerium für Illustration erworben werden.
Steven Guarnaccia – Fatherland
13 / 7 / 2017
13. Juli bis 5. August 2017
Ausstellungseröffnung am 13. Juli, 19 Uhr, mit Steven Guarnaccia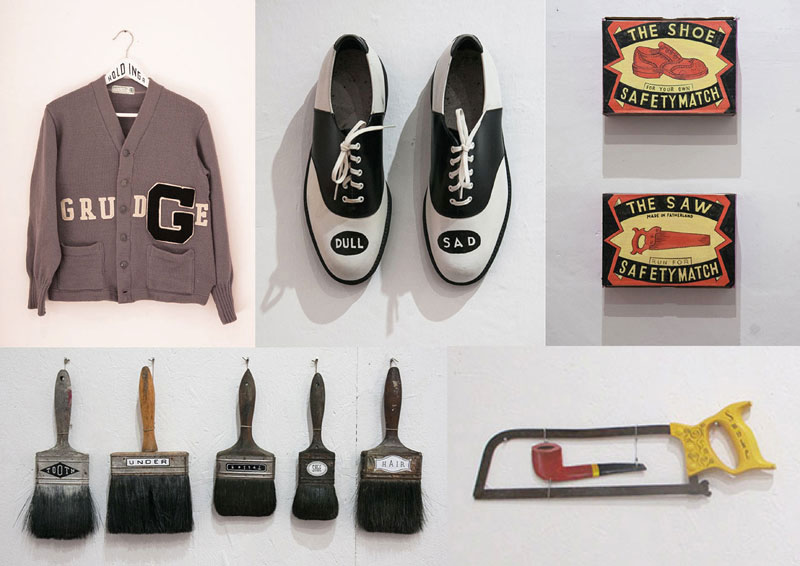 Steven Guarnaccia is an illustrator and designer, and Associate Professor of Illustration at Parsons The New School for Design, where he was the director of the Illustration Program from 2004-2011. He was previously the art-director of the Op-Ed page of the New York Times.
During his 35-year career as an internationally recognized illustrator he has worked for major magazines and newspapers, including the New York Times, Abitare, Rolling Stone and Domus, has created murals for Disney Cruise Lines, and exhibition drawings for a show of Achille Castiglione's work at the Museum of Modern Art.
He is the author of books on popular culture and design, including Black and White, a book on the absence of color, published by Chronicle Books. Guarnaccia has designed watches and packaging for Swatch, and greeting cards for the Museum of Modern Art. He has won awards from the AIGA, the Art Directors Club, and the Bologna Book Fair and has exhibited his work in one-man shows in the USA and Europe.
His children's books include The Three Bears: A Tale Moderne, The Three Little Pigs: An Architectural Tale and Cinderella: A Fashionable Tale, all published by Corraini Editore in Italy and Abrams in the US. His exhibition, Fatherland, was first shown at the Hamelin Gallery in Bologna in 2015, and has since traveled to London for the East London Comic Arts Festival and to Barcelona for the FLIC festival.